The American Society of Composers, Authors and Publishers (ASCAP) celebrated its unparalleled roster of music talents and legends, past and present, at the 34th annual ASCAP Rhythm & Soul Music Awards. Last night's event recognized special honorees and the songwriters and publishers of the most-performed ASCAP songs of the past year on the R&B/hip-hop, rap and gospel charts.

Chart-topping rapper Cardi B took home the ASCAP Songwriter of the Year Award for the first time. The honor recognizes the songwriter who has written or co-written the greatest number of most-performed songs of the year. Cardi B took the music world by storm with her 2017 breakthrough "Bodak Yellow"  and continued to dominate the charts with hits such as "Bartier Cardi" (ft. 21 Savage), "Ring (ft. Kehlani)," "I Like It" and more.
Trap music pioneer, actor and activist Tip "T.I." Harris took the stage as the first-ever recipient of the ASCAP Voice of the Culture Award, presented by noted political commentator, analyst and advocate Angela Rye. The new honor celebrates an ASCAP member who has had a major influence on music and culture. In addition to his musical accomplishments, T.I. has taken an active role in philanthropic and community transformation efforts through his non-profit, Harris Community Works (HCW).
Cardi B on the red carpet at the 2019 ASCAP Rhythm & Soul Music Awards.
(Lester Cohen/Getty Images for ASCAP)
T.I. on the red carpet at the 2019 ASCAP Rhythm & Soul Music Awards.
(Paras Griffin/Getty Images for ASCAP)
Cardi B and Offset with Cardi's Songwriter of the Year award at the 2019 ASCAP Rhythm & Soul Music Awards. (Lester Cohen/Getty Images for ASCAP)
Cardi B, Offset and ASCAP EVP of Membership John Titta pose with award at the 2019 ASCAP Rhythm & Soul Music Awards at Regent Beverly Wilshire Hotel on June 20, 2019 in Beverly Hills, California. (Lester Cohen/Getty Images for ASCAP)
Kevin Coach K Lee, Quavo, Yung Miami and Pierre Pee Thomas attend the 2019 ASCAP Rhythm & Soul Music Awards at Regent Beverly Wilshire Hotel on June 20, 2019 in Beverly Hills, California.
(Lester Cohen/Getty Images for ASCAP)
Quavo attends the 2019 ASCAP Rhythm & Soul Music Awards.
(Paras Griffin/Getty Images for ASCAP)
Ne-Yo attends the 2019 ASCAP Rhythm & Soul Music Awards at Regent Beverly Wilshire Hotel on June 20, 2019 in Beverly Hills, California. (Paras Griffin/Getty Images for ASCAP)
A Boogie wit da Hoodie attends the 2019 ASCAP Rhythm & Soul Music Awards at Regent Beverly Wilshire Hotel on June 20, 2019 in Beverly Hills, California. (Paras Griffin/Getty Images for ASCAP)
Kehlani attends the 2019 ASCAP Rhythm & Soul Music Awards at Regent Beverly Wilshire Hotel on June 20, 2019 in Beverly Hills, California. (Paras Griffin/Getty Images for ASCAP)
Yung Miami attends the 2019 ASCAP Rhythm & Soul Music Awards.
(Lester Cohen/Getty Images for ASCAP)
Saweetie poses on the red carpet at the ASCAP Rhythm & Soul Music Awards.
(Lester Cohen/Getty Images for ASCAP)
Angela Rye attends the 2019 ASCAP Rhythm & Soul Music Awards.
(Paras Griffin/Getty Images for ASCAP)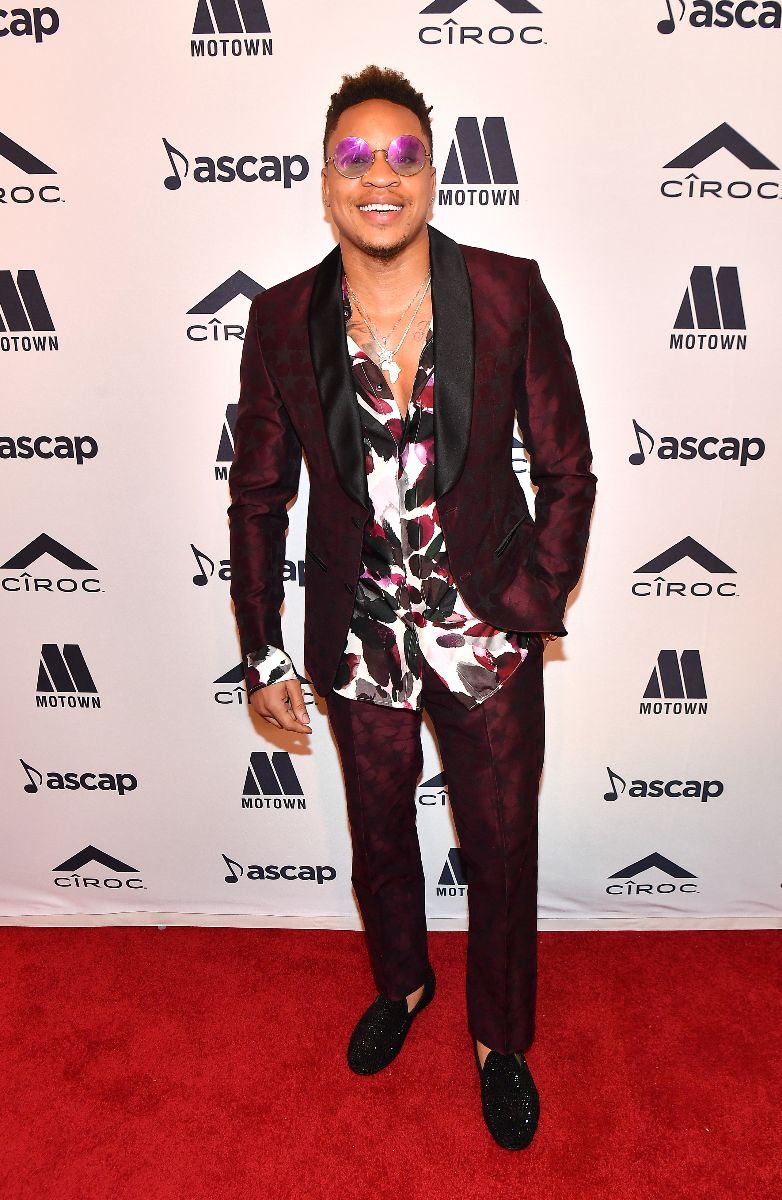 Rotimi attends the 2019 ASCAP Rhythm & Soul Music Awards at Regent Beverly Wilshire Hotel on June 20, 2019 in Beverly Hills, California. (Paras Griffin/Getty Images for ASCAP)
(L-R) Tameka Dianne "Tiny" Harris, T.I., Cardi B and Offset attend the 2019 ASCAP Rhythm & Soul Music Awards at Regent Beverly Wilshire Hotel on June 20, 2019 in Beverly Hills, California.
(Lester Cohen/Getty Images for ASCAP)
Cardi B and Tameka Dianne "Tiny" Harris attend the 2019 ASCAP Rhythm & Soul Music Awards at Regent Beverly Wilshire Hotel on June 20, 2019 in Beverly Hills, California.
(Paras Griffin/Getty Images for ASCAP)
Cardi B accepts the ASCAP Songwriter of the Year award at the 2019 ASCAP Rhythm & Soul Music Awards. (Lester Cohen/Getty Images for ASCAP)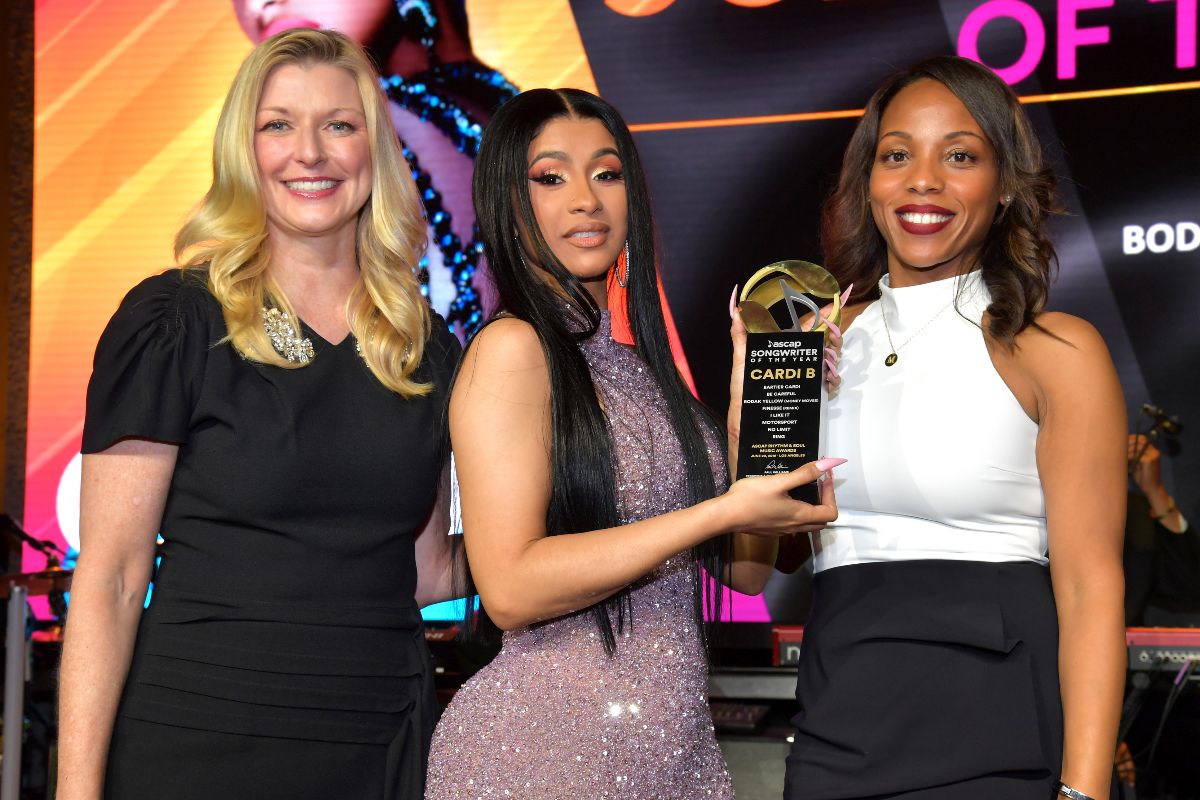 (L-R) ASCAP CEO Beth Matthews, Cardi B and ASCAP Membership Senior Vice President Nicole George-Middleton pose with award at the 2019 ASCAP Rhythm & Soul Music Awards at Regent Beverly Wilshire Hotel on June 20, 2019 in Beverly Hills, California. (Lester Cohen/Getty Images for ASCAP)